| | |
| --- | --- |
| ChurchCare Church management made easier! | |
Virtual Tour -> Member Record -> Details View
When you click on the Details tab or double click on the Quick List grid, ChurchCare will transfer you to the member details screen. The Details tab of Member Information module looks like this: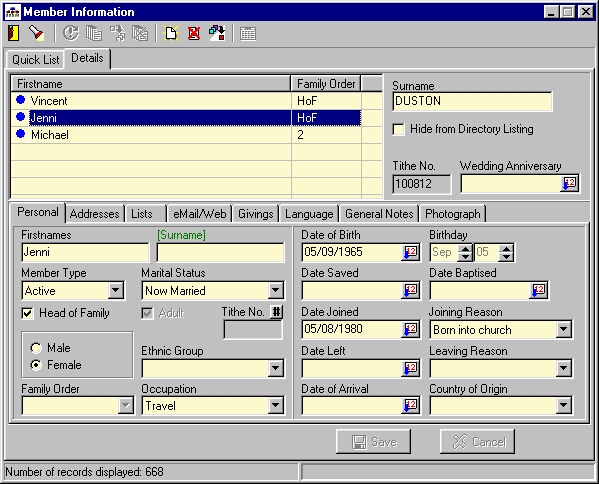 The top part of the screen diaplays the family details. A family (within the context of this program) consists of members of a family living at the same address. Any member of a family living away from home is considered a separate family (because that person cannot share a family address with the rest).
Family Details
The family details section has a list of members of that family. Selecting different invidual within that list will change the details shown in the bottom part of the screen.
The "Hide from Directory Listing" checkbox is used to exclude this family from being printed in the church Directory. The tithe number shown in this section belongs to the head(s) of family. This is distinct from the tithe number of each individual.
Individual Details
The information in this section is divided into categories, each appears in its own tab:
Personal - demographic details
Addresses - addresses for the family
Lists - group(s) participation
eMail/Web - a place to store email addresses and/or Web addresses (URL).
Givings - a read-only browser of the family's or individual's giving records.
Language - details of the member's language ability
General Notes - free format notes for family and members
Photograph - store electronic photographs
We will take a closer look at the demographic detail on the NEXT>> page.
Click <<Prev to return to the previous page.