| | |
| --- | --- |
| ChurchCare Church management made easier! | |
Virtual Tour -> Contributions->Batch Entry
The Batch Entry allows you to enter giving record, either tithes or pledge, for the giving record file selected. You must choose a giving record file from the Recording Type field before you can enter giving records. The Date field is also compulsory.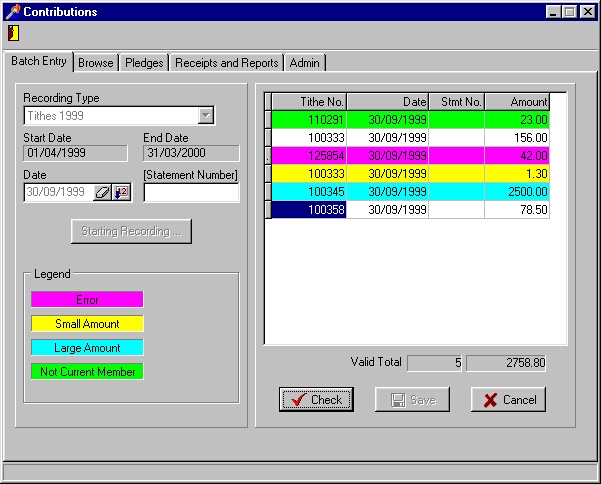 Individual giving record is entered in the grid on the right. As data is entered, the program will do some immediate checking. If there is any error, the row in question will be highlighted with the approiate warning colour. When you click on a row with error, you can see the error/warning message in the status bar at the very bottom part of the screen.
When the batch is completed, click the "Check" button to do a final and complete validation. If the batch passed checking, the "Save" button will become active and you can save the batch to the database. If there are errors, simply correct them and re-check.
Note that warnings will not prevent you from saving the batch. They are there only to highlight possible concerns to the user.
Giving records that have been saved cannot be corrected here. To maintain saved giving records, you use the browser; which is available through the Browse tab.
Go to the NEXT>> page to discover what the browser can do..
Click <<Prev to return to the previous page.